03.07.2019
change 03.07.2019
Physician: Even a few days in space can have a negative impact on health
Photo: Fotolia
Even a few days of stay in space can have a negative impact on human health. American astronauts, who landed on the Moon, complained about headaches, nausea, vomiting, and even prostatitis, Dr. Aleksander Waśniowski says in an interview with PAP.
July 20 marks the 50th anniversary of the first manned landing on the Moon. When American astronaut Neil Armstrong descended the ladder and set foot on the dust-covered Silver Globe, he uttered the famous words: "That`s one small step for man, one giant leap for mankind". In connection with the anniversary, PAP talks with experts on issues related to the exploration of the Moon.
This year, the US agency NASA announced it plans to send another manned mission to the Moon in 2024. NASA emphasises that it will not be a one-off event: a permanent base will be established on the Silver Globe by 2028. It is unclear whether it will have human personnel like the International Space Station (ISS), or rather be operated automatically, for example from a vehicle orbiting the Moon or Earth.
Dr. Aleksander Waśniowski, MD, says in an interview with PAP that leaving Earth can be dangerous for a human because the body is adapted to the conditions that prevail on Earth. Waśniowski is the Director of Development and Medicine at the LUNARES centre near Piła (Wielkopolska). It is an analogue space base and a research laboratory. The conditions in LUNARES are analogous to those that astronauts will find in a real base on the Moon or Mars.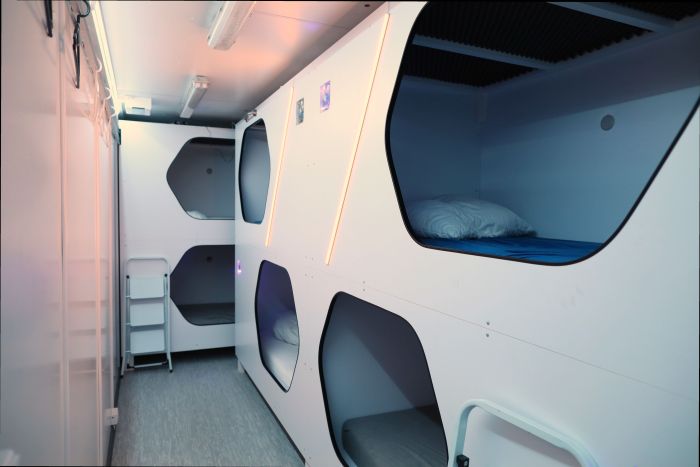 The interior of the lunar base model "Habitat Lunares" at the old airport in Piła. Photo: PAP/Marek Zakrzewski 29.07.2018
The astronauts of several Apollo missions (six flights between 1969 and 1972) stayed on the Moon briefly - their longest stay lasted only 3 days, and the stay outside the lander - 22 hours.
"But they still complained about a number of ailments - headaches, swelling of the head, nausea, vomiting, balance disorders and ear inflammation, and two of them also had prostatitis" - says Dr. Waśniowski. In his opinion, these are mostly harmless ailments that should pass some time after returning to Earth.
There are many threats to astronauts in outer space and on the Moon. They include galactic cosmic rays (GCR). "On the Earth, the magnetosphere protects us from it, but neither the Moon nor Mars has it, so it is necessary to have adequate shields" - the expert points out.
Prolonged exposure may cause DNA damage, cancer, but also blindness and neuropsychiatric disorders.
Due to the radiation of this type, initially the stay in the lunar base will probably last no longer than 3 months, Waśniowski believes. But he emphasizes that it all depends on technological solutions. Those are still being improved. For example, a man`s record time spent in space is nearly 440 days - the Russian astronaut Valeri Polyakov has stayed as long on the Mir station.
Another major problems for maintaining health on the surface of the Moon is low gravity - it is six times lower than on Earth. "This will cause the weakening of tendons and muscles of astronauts and decalcification of the bones, and the likelihood of sprains or twists in the limbs will also be large" - the expert believes.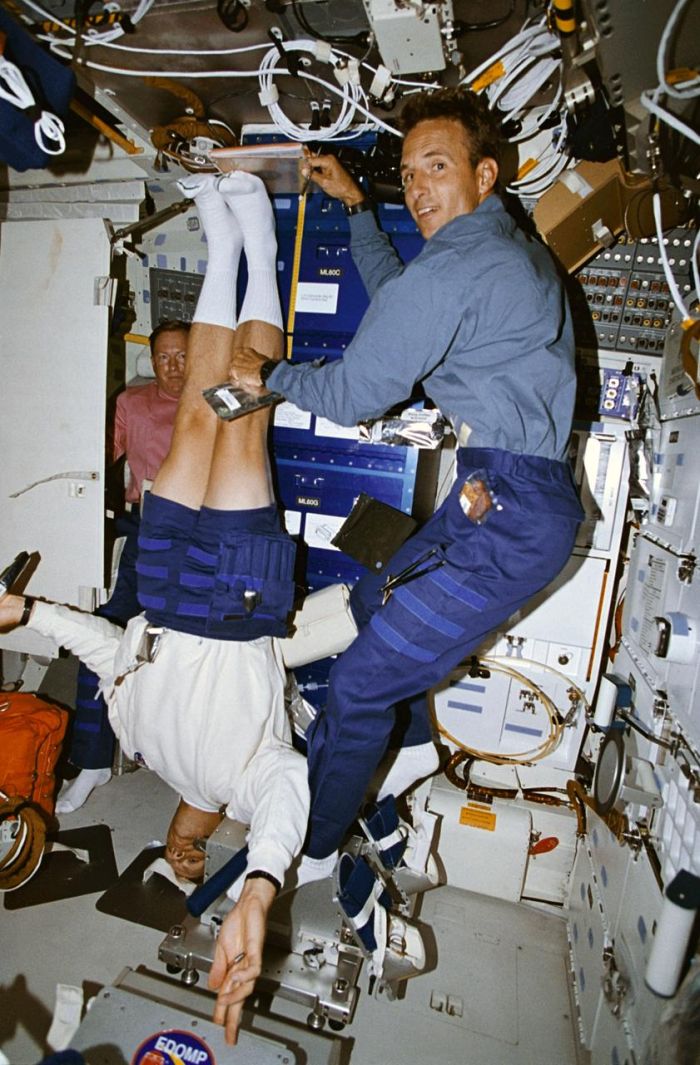 Astronauts Jerry M. Linenger and Mark C. Lee during a medical experiment. The picture was taken on the Space Shuttle Discovery`s middeck during STS-64 mission. Credit: NASA 15.09.1994
A source of discomfort for lunar settlers could also be the artificial atmosphere that they will have to breathe. The irritation of the respiratory system, eyes, and even infections may be common. "Astronauts may suffer similar ailments to those affecting people working in office buildings, where the temperature is regulated by air conditioning" - says Dr. Waśniowski.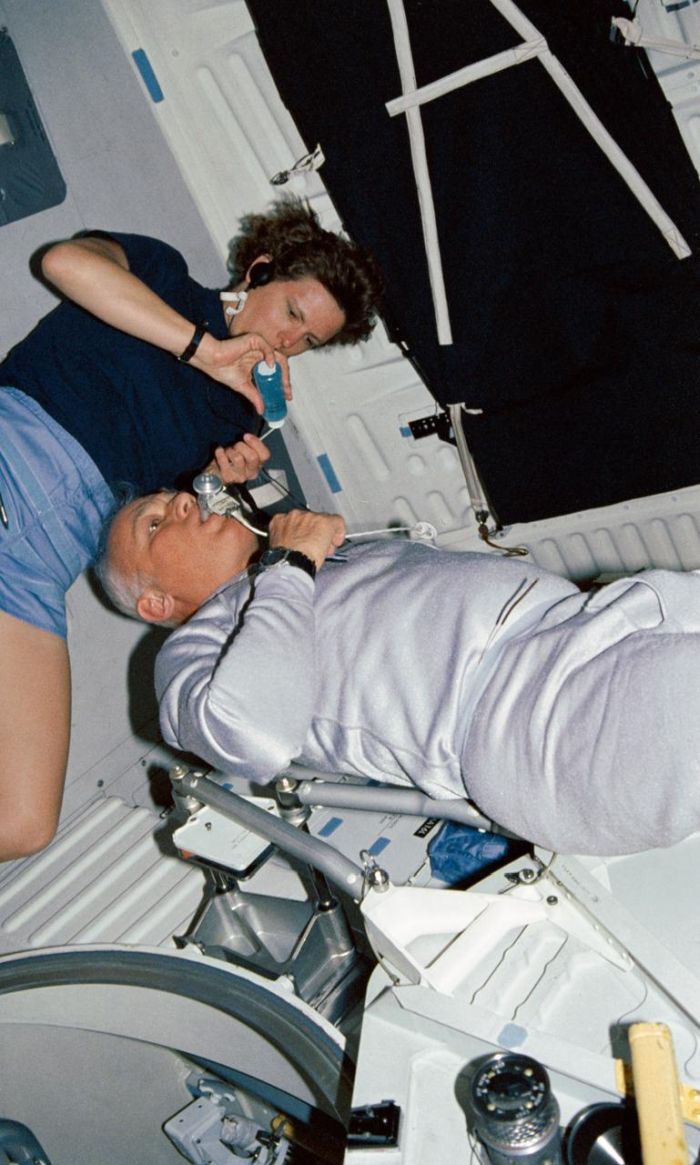 Astronauts Kathryn D. Sullivan and Bruce McCandless II during a medical experiment. The picture was taken on the Space Shuttle Discovery during STS-31 mission. Credit: NASA 29.04.1990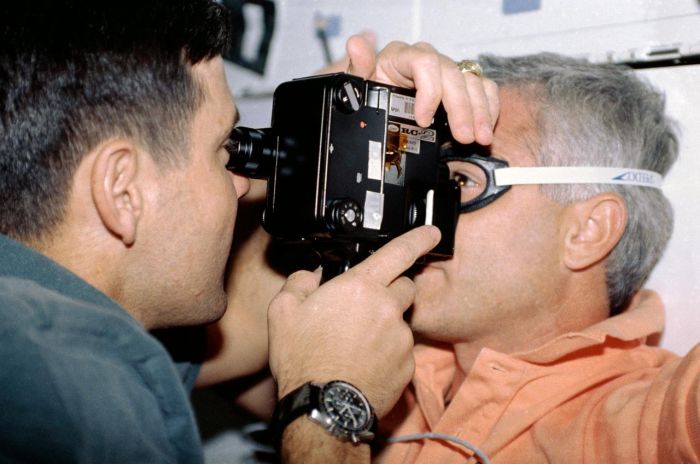 Astronaut Robert D. Cabana while using a tonometer to check intraocular pressure in astronaut Michael R. U. (Rich) Clifford`s eyes. The picture was taken on the Space Shuttle Discovery during STS-53 mission. Credit: NASA 09.12.1992
Astronauts who have walked the Moon`s surface so far have not been very young. The youngest was 36 and the oldest was 47, but most of them were under 40. Is this the optimal age for astronauts?
"Contrary to popular belief, body`s efficiency is not always best in young people. Younger and leaner people are more susceptible to hypothermia, and their faster metabolism causes higher oxygen demand" - the expert says. He mentions the excellent results of the Polish climber Piotr Pustelnik, who completed the Crown of the Earth (14 peaks over 8,000 m above sea level) in his 40s.
Physical fitness is not everything. Apollo pilots had to be experienced and make rational decisions. "The car accident statistics do not lie - people in their 20s have the tendency to show off and take risks. We want to avoid this in space at all costs" - he adds.
Waśniowski adds that now space has opened up to women - the astronauts of the Apollo mission were all men, but women are being sent to the International Space Station. Mixed crews are also planned for re-landing on the Moon and other manned missions.
Like in any small, isolated community, Moon settlers may have psychological problems. Waśniowski says that there is no one perfect solution to this problem. Numerous experiments on long-term isolation in a small group have been conducted on Earth - some of them lasted more than a year, others were shorter, for example those in the LUNARES base near Piła. Waśniowski points out that the key to ensuring ideal conditions is not only a group of astronauts suitably selected in terms of personality, but, for example, providing an attractive diet.
"The type of food strongly affects the state of mind and morale - this is the case in all closed communities, for example prisons or military units" - he points out.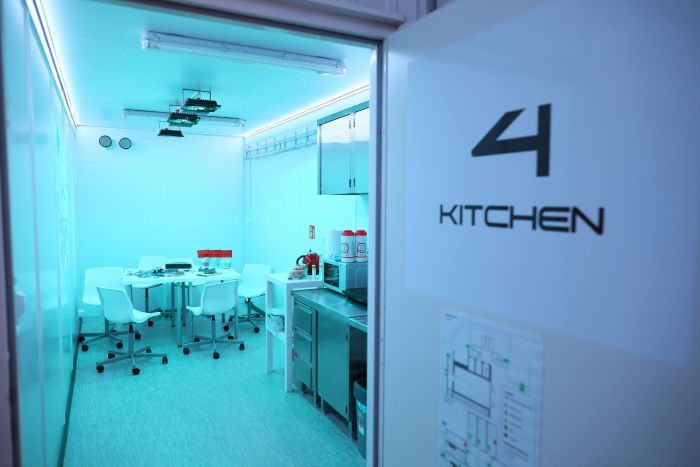 The interior of the lunar base model "Habitat Lunares" at the old airport in Piła. Photo: PAP/Marek Zakrzewski 29.07.2018
In the case of astronauts, it should be mainly food of vegetable origin, which does not strongly acidify the body (as products of animal origin do). Does this mean that vegetarians and vegans will have priority in space flights?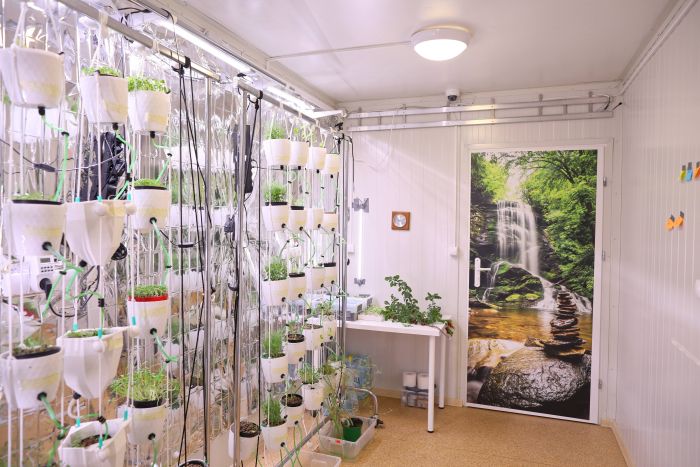 The interior of the lunar base model "Habitat Lunares" at the old airport in Piła. Photo: PAP/Marek Zakrzewski 29.07.2018
"Extreme ideologies presented in small groups, also in space, are problematic, and this also applies to diet. Therefore, it would be best if astronauts preferred vegetable foods, but were open to eating meat products. Situations in space can be unpredictable" - Waśniowski concludes.
PAP - Science in Poland, Szymon Zdziebłowski
szz/ ekr/ kap/
tr. RL