17.02.2021
change 17.02.2021
Race on to save collapsing Monte Cassino monument wall
Monte Cassino, Italy, May 18, 2019. Preparations for the celebration of the 75th anniversary of the end of the battle at the Polish war cemetery at Monte Cassino. (pkus) PAP/Leszek Szymański
A race is on to save a retaining wall in front of a monument at Monte Cassino honouring Poland's 3rd Carpathian Rifle Division.
Engineers from the Military University of Technology in Warsaw found that because of a lack of a drainage system, the wall is on the verge of collapse. 
Researchers from the Faculty of Civil Engineering and Geodesy of the Military University of Technology travelled to Italy to determine what caused the damage to the wall, how large the damage is and how to repair it while maintaining the original character of the monument, which occupies a special place in Polish history.
According to Lt. Col. Dr. Ryszard Chmielewski, who will supervise the resumed restoration work on the wall, due to the lack of a drainage system, water washed away the joints binding the elements of the wall. Its surface is covered with moss and lichens that damage the outer layer of stones. In places, fragments of the wall collapsed completely.
The research team have now concluded 'urgent repair' is essential. They said: "It is primarily necessary to clear the ground next to the wall and repair damaged posts. 
"The gaps between the stones should be filled gradually by volume injection of repair mortar. In places where the wall has collapsed, it will have to be completely rebuilt, keeping the original arrangement of the stones. 
"The plan also includes inserting two drainage channels. They would run along the stairs leading to the monument and along the wall."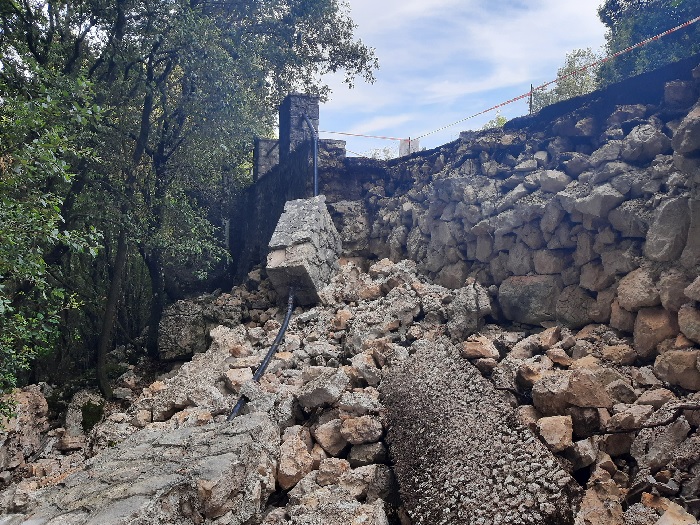 Monte Cassino. Credit: Ryszard Chmielewski, WAT
Scientists point out that the conservation of stone monuments is always very time-consuming and expensive. Materials produced in Italy are planned to be used to repair the wall. Materials for the restoration of historic stone structures made by local manufacturers are known and appreciated all over the world.
The wall was probably built in 1945. It was built by soldiers of the 3rd Carpathian Rifle Division, who remained in Italy after the end of World War II, before their demobilization in the UK in 1946. Currently, it is an integral part of the 3rd Carpathian Rifle Division monument.
Its restoration is supervised and conducted by the Department of Cultural Heritage Abroad and War Losses. It operates at the Ministry of Culture and National Heritage, which carries out permanent conservation care of the Polish war cemetery at Monte Cassino. The work carried out so far included the removal of fungal tissue that destroys travertine (the stone used to build the wall) and restoration of the inscriptions on the monument. Restoration work will be resumed. (PAP)
Karolina Duszczyk
kol/ zan/ kap/
tr. RL