23.11.2020
change 23.11.2020
Researcher uses light to detect explosives
Warsaw, March 20, 2020. The deserted Chopin airport in Warsaw, March 20, during the epidemic threat in Poland in connection with the coronavirus pandemic (kk/doro) PAP/Kalbar
A new method for detecting explosives and narcotics with the use of light is being developed at the Military University of Technology.
By using Surface Enhanced Raman Spectroscopy (SERS) equipped with a laser, scientist Malwina Liszewska says she hopes to be able to save travellers from attack.
MOLECULE AND ITS LIGHT 'FINGERPRINT'
Currently, Raman spectroscopy is used to detect relatively large amounts of explosives or other hazardous substances. The substance is illuminated by laser radiation and then it is identified.
Portable Raman spectrometers are also used at airports and in other public spaces, where a package, a bag or a bottle with powder may be left.
PhD student Liszewska said: "The molecules of the substance scatter the light and the Raman effect occurs, when the energy of the photon changes. Without going into details, the scattered light falls on the detector and is converted into a spectrum. It's like a fingerprint of a molecule.
The problem is that bombers also use home-made explosive devices, such as a closed can filled with hazardous material. Only traces of explosive substances, invisible to the naked eye, are left on the surface of the package.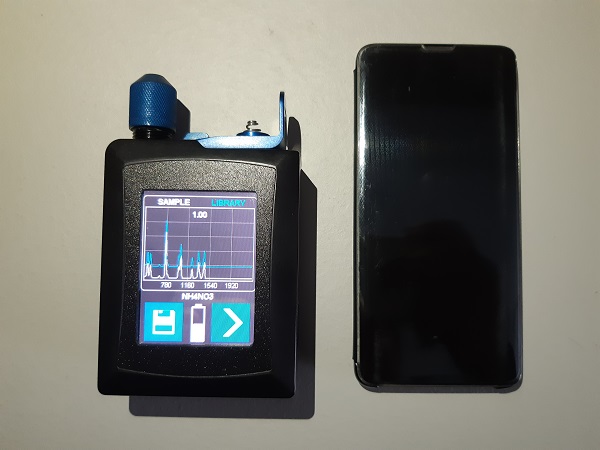 Mini Raman spectrometer IDRaman next to a mobile phone, credit: M.Liszewska
But with Surface Enhanced Raman Spectroscopy, scientists use a special substrate or a stick with nanoparticles which can be used to wipe a spot or part of an object that could potentially be stained with explosives. Then a measurement is made that explains what the examiners are dealing with. The method could be used in medicine, industry or forensics.
REMOTE MEASUREMENT TO PROTECT HUMANS
Liszewska plans to extend her research to include as many explosives as possible and has created a 'libraries of spectra of hazardous substances'. Such libraries would be uploaded to a computer controlling the spectrometer and during the test, the software will compare the spectrum of an unknown substance with that in the database.
A portable Raman spectrometer with the new substrate in the form of a stick on a robot would make it possible to remotely detect trace amounts of hazardous materials. A robot supporting the work of EOD specialists or fire fighters could, in a safe way for the operator, sample the surface of a suspicious object with a SERS stick, and then analyse it with a Raman spectrometer.
PAP - Science in Poland, Karolina Duszczyk
kol/ zan/ kap/
tr. RL