17.04.2020
change 17.04.2020
BRITE Satellite Observes 'Explosive' Nova
V906 Carinae flare near the Carina Nebula. The satellite's observation target was the brightest object in the picture, a red giant. Credit: A. Maury & J. Fabrega, Nature Astronomy,
A satellite from the Polish-Austrian-Canadian BRITE constellation registered a series of stellar explosions accompanied by the appearance of a nova in the sky, helping observers understand why the novae are so bright.
Observed on a nanosatellite from the BRITE constellation, the international team of researchers found that shock waves are an important factor.
The BRITE (BRIght Target Explorer) Constellation is a network of five nanosatellites which investigate the evolution of the brightest stars and their interaction with the local environment.
BRITE's Toronto nanosatellite was watching V906 Carinae nova's bright star when scientists suddenly saw new flare appear.
The nanosatellite was quickly joined by another of BRITE's satellites, Poland's Heweliusz as well as LAT, which studies gamma radiation, and the South African Large Telescope (SALT), at which a Polish team with the participation of Professor Joanna Mikołajewska from the Nicolaus Copernicus Astronomical Center PAN works.
Professor Mikołajewska told PAP that thanks to the observations of these telescopes we know much more about how novae release so much energy.
She said that white dwarf is a very dense star which resembles Earth in size, but the Sun in mass. When another star is nearby, the dwarf removes matter from it. At some point during this process, nuclear fusion and explosion may occur.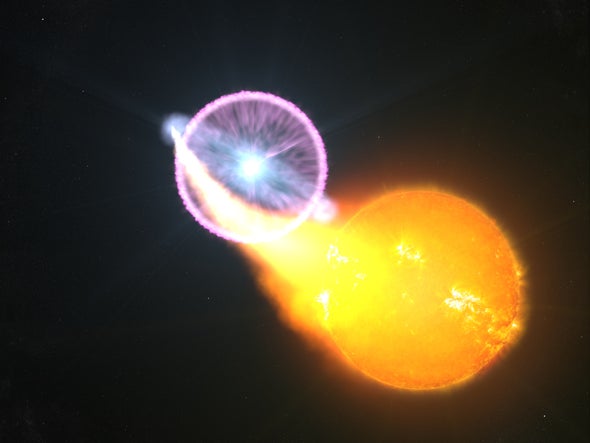 Artist's rendering of the shockwave that is an important source of nova's brightness. Credit: A. Maury & J. Fabrega, Nature Astronomy
She said: "We astronomers believed that it this nuclear explosion was the primary reason for the star's brightness. The latest observations show something a little different. It turns out that shock waves are quintessential."
After the first explosion there are at least a few subsequent flares in the envelope of the white dwarf. "In each of them, a different amount of matter is scattered around the star at different speeds. And when portions of matter are scattered around at different speeds, they begin to collide with each other. As a result, shock waves form. They are responsible for most of the light that reaches us from novae," she said.
WHY NOVAE MATTER? THEY ARE FACTORIES OF ELEMENTS
The professor added that novae are of great importance for the production and circulation of elements in the Universe, including those necessary for life such as carbon, nitrogen and oxygen (recently it also turned out that lithium used in lithium-ion batteries).
Mikołajewska said: "It is important that we understand how the various elements propagate in the galaxy and end up in places where new stars or planets can form from them, and possibly - also life."
The team's research was published in Nature Astronomy.
This unusual phenomenon - the appearance of a new "light" in the sky (V906 Carinae nova) - was observed by one of the BRITE nanosatellites.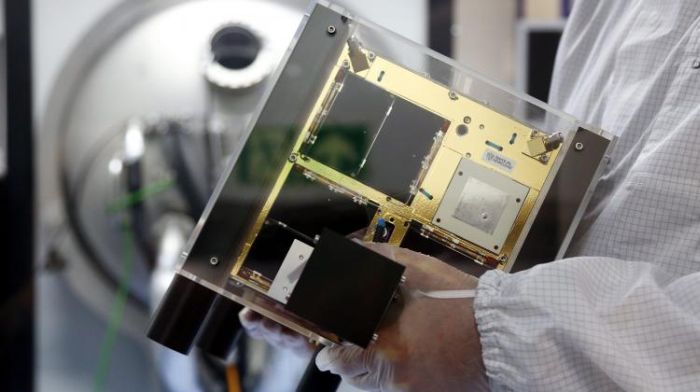 Heweliusz satellite. Credit: PAP/ Tomasz Gzell 30.06.2014
PAP - Science in Poland, Ludwika Tomala
lt/ agt/
tr. RL